Women*s Initiative for Leadership Development (WILD) Wednesdays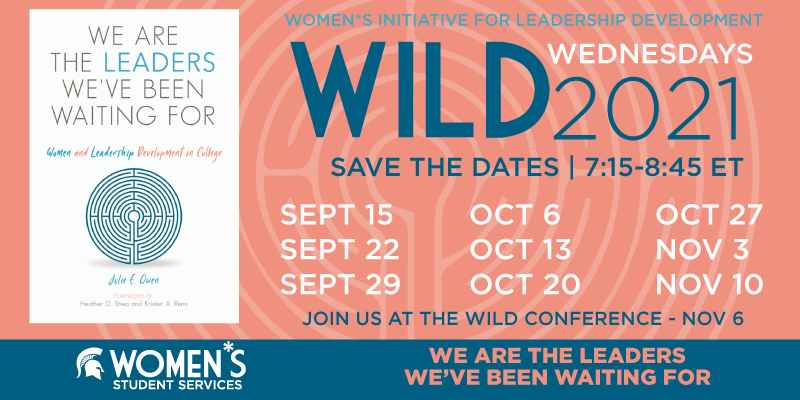 LEADERSHIP DEVELOPMENT WORKSHOPS
Held weekly on Wednesdays from 7:15 - 8:45 p.m. in the Student Leadership Center (Room 110, Student Services Building), WILD Wednesdays consist of a 6-part series of leadership development seminars.
The seminars will focus on the seven "C"s of the Social Change Model of Leadership Development: Change, Consciousness of Self, Congruence, Commitment, Collaboration, Common Purpose, Controversy with Civility, and Citizenship. Each session engages students in a short group activity around the "C" and then encourages students to build toward an individual/group/society leadership action plan. All workshops are facilitated by the staff of Women's Student Services this fall. 
THEORY OF CHANGE
The underlying premise of the WILD Wednesday Leadership Development program is based on the Social Change Model of Leadership Development (as described in the second edition of the book "Leadership for a Better World" by Komives and Wagner and associates (2016). This accessible and student-friendly model is focused on the process of leadership and focuses on developing leaders through engaging in conversation about seven different "values." The model posits that effective leadership for social change lies at the nexus of individual, group, and societal/community values (as depicted in the model). The MSU Mission and Statement on Diversity states that valuing inclusion benefits students by "enriching their learning experience and better preparing them to function as effective citizens." The WILD Wednesday's core value is citizenship for social change and transformative justice.
Read more: 
Komives, S. R., & Wagner, W. (Eds.). (2016). Leadership for a better world: Understanding the social change model of leadership development. John Wiley & Sons.
Owen, J. E. (2020). We are the Leaders We've Been Waiting for: Women and Leadership Development in College. Stylus Publishing, LLC.