Learn More About WSS
Overview of Women*s Student Services
Since its establishment in summer 2019, Women*s Student Services (WSS) has expanded rapidly to meet the needs of women* students at MSU and fill the gaps left when the previous Women's Resource Center closed.The staff and students who work in WSS are committed to fostering engaging conversations about intersectional feminism, building collaborations and coalitions with other student services and campus office and organizations, and supporting and empowering all students in working towards an inclusive community.
Our goal is to provide engaging programs, relevant information, timely services, and resources for women students on campus. We actively work to minimize hierarchy, eliminate oppressive power, and address privilege with this work and we promote unrestricted full involvement of women and all students facing gender-based oppression at MSU. We do this by offering a variety of programs and resources for MSU students, including workshops focused on leadership and mentoring, social events, conferences, and community development initiatives.
Visit us in Room 14 of the Student Services Building!
We are located in suite 14 in the basement of the Student Services Building (right across from the Student Veterans Resource Center).

*Why the asterisk?

We use an asterisk in Women*s Student Services to share that there is more to the story. Gender is one part of our identities, and there is more to gender than the binary. The movement for gender equity is work that everyone, regardless of gender, can and should do. We are made up of intersecting identities—including our gender—that shape our life experiences. All who are interested in supporting students in working toward an inclusive and equitable community are welcome.
In order to work toward an inclusive and equitable community, we have to challenge and break down what already exists. All those who are interested in working together to dismantle institutional and societal oppressions are welcome to join W*SS in our advocacy, programs, support services, and discussions.
WOMEN, Not Womxn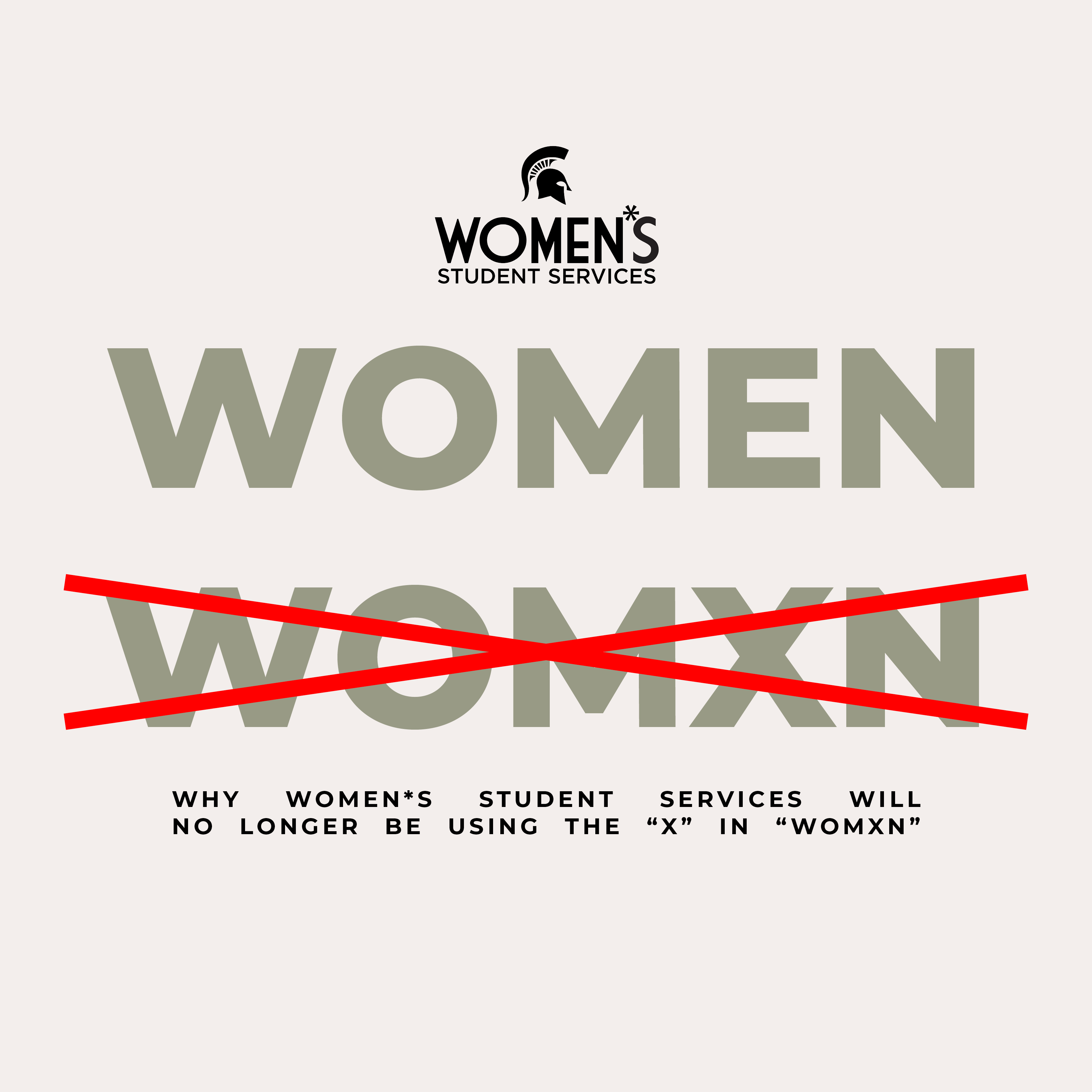 The staff and students involved in Women*s Student Services have engaged in an ongoing dialogue about spelling of the word WOMEN and what various spellings and alterations (like replacing the E with an X or Y) might signify. We have listened to students, talked with our campus partners, and conducted our own research using online resources. Based on what we've heard through this feedback, we've determined we are no longer using an "X" in the word women. While some might say that we need to problematize the word women, we believe that no modification of the word (by adding an "X") is needed and no "alternative spelling" is required to make the word inclusive of trans women. The word women is already inclusive of all who identify as women. 
 This article from the Daily Illini has a good overview of the rationale and was an important resource for us as we discussed. In short (quoting from the article) "the origins of adding 'x' or 'y' in the word 'women' come from trans-exclusionary radical feminists who believe women are only women if they are born female." Further, the conversation spans beyond the needs of white, cis women and the centering of white women in feminist spaces. We agree with the person named M.S. quoted in the article as saying "modification of the word women is not inclusive or effective as a feminist practice." 
We'd welcome the opportunity to continue this conversation through open discussion! Please stop by our office in the Student Services Building, Suite 14.